Posts for tag: dentures
By Blackwood Orthodontics
May 12, 2017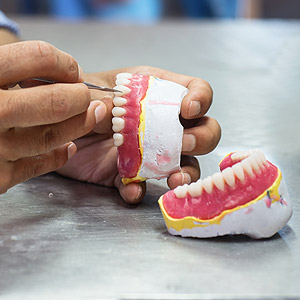 For centuries, people who've lost all their teeth have worn dentures. Although materials in today's dentures are more durable and attractive than those in past generations, the basic design remains the same — prosthetic (false) teeth set in a plastic or resin base made to resemble gum tissue.
If you're thinking of obtaining dentures, don't let their simplicity deceive you:Â a successful outcome depends on a high degree of planning and attention to detail customized to your mouth.
Our first step is to determine the best positioning for the prosthetic teeth. It's not an "eyeball" guess — we make a number of calculations based on the shape and size of your jaws and facial features to determine the best settings within the resin base. These calculations help us answer a few important questions for determining design: how large should the teeth be? How far forward or back from the lip? How much space between the upper and lower teeth when the jaws are at rest?
We also can't forget about the artificial gums created by the base. How much your gums show when you smile depends a lot on how much your upper lip rises. We must adjust the base size to accommodate your upper lip rise so that the most attractive amount of gum shows when you smile. We also want to match as close as possible the color and texture of your natural gum tissues.
There's one other important aspect to manage: how your upper and lower dentures function together when you eat or speak. This means we must also factor your bite into the overall denture design. This may even continue after your dentures arrive: we may still need to adjust them while in your mouth to improve function and comfort.
Ill-fitting, dysfunctional and unattractive dentures can be distressing and embarrassing. But with careful planning and customization, we can help ensure your new dentures are attractive and comfortable to wear now and for years to come.
If you would like more information on removable dentures for teeth replacement, please contact us or schedule an appointment for a consultation. You can also learn more about this topic by reading the Dear Doctor magazine article "Removable Full Dentures."
By Blackwood Orthodontics
September 28, 2016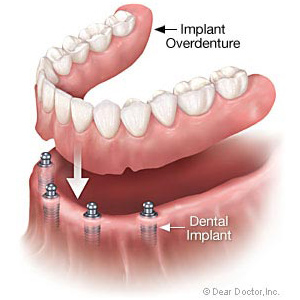 If you've had the misfortune of losing all or most of your teeth (a condition called edentulism), you still have effective options for restoring lost form and function to your mouth. There is, of course, the traditional removable denture that's been the mainstay for edentulism treatment for decades. If you haven't experienced significant bone loss in the jaw, though, a fixed bridge supported by titanium implants could be a better choice.
But what if bone loss has ruled out an implant-supported fixed bridge? There's still another option besides traditional dentures — a removable "overdenture" that fits "over" smaller diameter implants strategically placed in the jaw to support it.
A removable, implant-supported bridge offers a number of advantages for edentulism patients with significant bone loss.
Speech Enhancement. Any denture or bridge supported by implants will have a positive impact on speech ability, especially involving the upper jaw. But patients who've previously worn removable dentures may not see a dramatic difference but will still be able to benefit from the greater stability of the denture, particularly if the dentures were previously unstable.
Hygiene. A removable denture allows better access to implant sites for cleaning. Better hygiene reduces the risk of gum disease and further bone loss.
Long-Term Maintenance. Regardless of which type of implant supported restoration is used, it will eventually require some maintenance. A well-designed removable overdenture can make any future maintenance easier to perform.
Aesthetics. For personal satisfaction, this is often the ultimate test — how will I look? As a product of the evolving art of facial aesthetics, removable dentures supported by implants can replace lost tissues and restore balance to the face, and often produce a remarkable smile "makeover."
To find out which restoration option is best for you, you should first undergo a thorough examination to determine the status of your facial and jaw structures, particularly the amount of bone mass still present. Ultimately, though, the decision should be the one that best fits your functional needs, while fulfilling your desires for your future smile.
If you would like more information on tooth restoration options, please contact us or schedule an appointment for a consultation. You can also learn more about this topic by reading the Dear Doctor magazine article "Fixed vs. Removable: Choosing Between a Removable Bridge and a Fixed Bridge."
By Blackwood Orthodontics
August 06, 2016
People who've lost all their teeth have benefitted from a solution that's been around for generations: removable dentures. These appliances have helped millions of people chew and eat food, speak, and smile confidently.
But for all their benefits (including affordability) there's still some things you need to do to get the most out of them like cleaning them daily or having us check them regularly for damage and wear. And, there's one thing you shouldn't do: wear them around the clock. Not removing them when you sleep at night can harm your oral health and reduce your dentures' longevity.
Dentures are fitted to rest on the gums and the bony ridges that once held your natural teeth. This exerts pressure on the underlying bone that can cause it to gradually dissolve (resorb). This loss in bone volume eventually loosens your denture's fit. If you're wearing them all the time, the process progresses faster than if you took them out each night.
The under surfaces of dentures are also a prime breeding ground for bacteria and fungi. Besides unpleasant odors and irritation, these microorganisms are also the primary cause for dental disease. Research has found that people who sleep in their dentures have higher occurrences of plaque, a thin film of bacteria and food remnants that cause periodontal (gum) disease. They're also more prone to higher levels of yeast and the protein interleukin-6 in the blood, which can trigger inflammation elsewhere in the body.
To avoid these and other unpleasant outcomes, you should develop a few important habits: remove and rinse your dentures after eating; brush them at least once a day with dish or anti-bacterial soap or a denture cleanser (not toothpaste, which can be too abrasive); and take them out when you sleep and place them in water or an alkaline peroxide-based solution.
Be sure you also brush your gums and tongue with an extra soft toothbrush (not your denture brush) or wipe them with a clean, damp washcloth. This will help reduce the level of bacteria in the mouth.
Taking these steps, especially removing dentures while you sleep, will greatly enhance your well-being. Your dentures will last longer and your mouth will be healthier.
If you would like more information on denture care and maintenance, please contact us or schedule an appointment for a consultation.